No Longer Accepting Submissions
If you're interested in this project, sign up for our mailing list below or follow us on Twitter.
We will have more anthologies in the future.
"There's no place like home."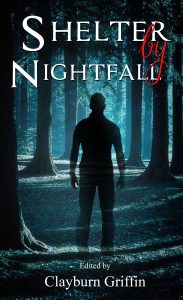 Shelter by Nightfall is an upcoming ebook edited by Clayburn Griffin. It will include several short stories exploring the subject of home and its importance in our physical and emotional well-being as humans. This collection will feature new and independent authors for readers to get a taste of their talent and style. Be sure to sign up for updates below to be notified when the book is available for purchase.
Submissions
We are still accepting stories for Shelter by Nightfall. The deadline has been extended to December 15th! If you're interested please follow these steps:
Write a short story between 6,000 and 10,000 words on the theme of Home and its significance to the Human Condition.
Email your short story as a Microsoft Word or Google Doc to contact@clayburnbooks.com.
Include in your email a short bio of 200 words or fewer. List any relevant websites or social media profiles too.
If your story is selected, you will receive a response with next steps to prepare for publication.
Rules & Payment Information:
Submitted stories may be previously published, however the author must own appropriate rights to republish globally.
Author will be required to grant global publishing rights for inclusion in the Shelter by Nightfall story collection.
Authors whose stories are selected for inclusion in Shelter by Nightfall will receive a $50 one-time payment upfront. Additional royalties of 6% of revenue (after any seller or marketplace commissions) will be paid out monthly for five years from publishing date. No additional royalties will be given for sales after five years from the original publishing date, even in the case of subsequent published editions of Shelter by Nightfall.
Edits may be suggested or requested. If a final version cannot be reached meeting our approval, the story may be declined inclusion despite initial interest.
For consideration, all stories must be submitted by the deadline of 11:59 PM EST December 15th, 2016.
We will be unable to respond to every submission.
No more than two submissions per author (only one story may be selected for inclusion).
Rules subject to change.